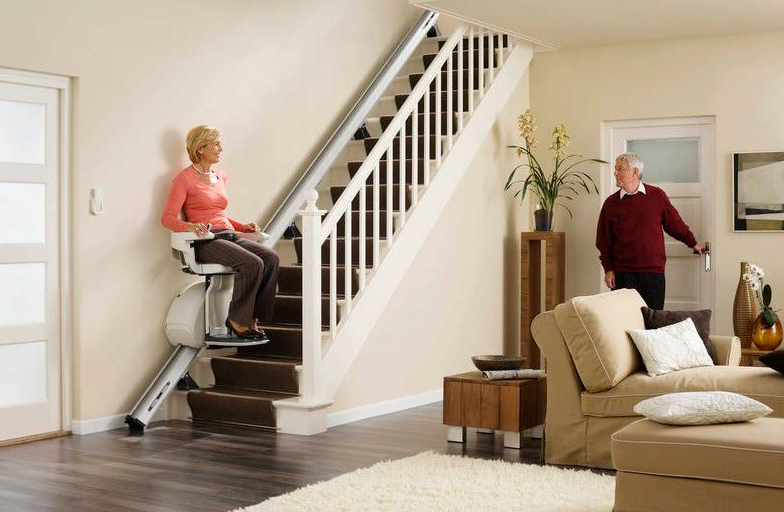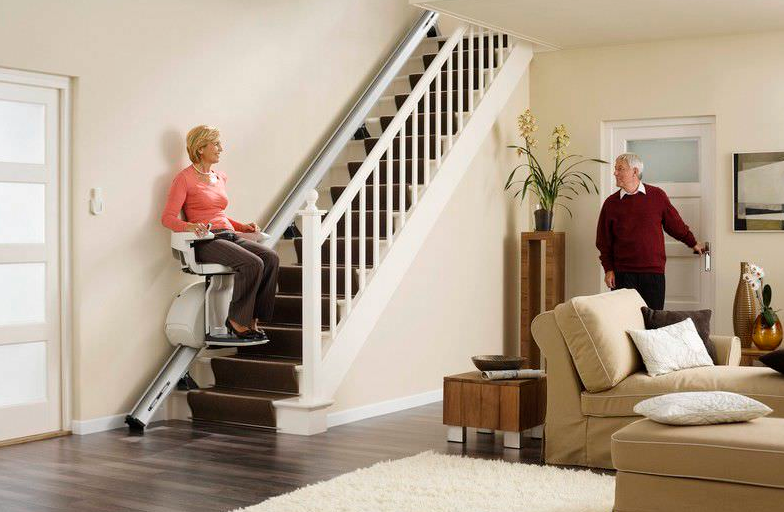 Although stairs are a common feature in almost every home, there usually come a time when they can be a hindrance to mobility across the home. In an attempt to avoid the stress of using the stairway, some people usually opt to sell their homes. Others are also forced to initiate grand refurbishment projects, which often cost a lot of money. However, there is a better and less costly option that you can now pursue to avoid feeling like a prisoner in your own home.
With ThyssenKrupp Access stair lifts, you are able to continue living happily in your home while also enjoying enhanced mobility and accessibility both indoors and outdoors without complex and costly refurbishments.
ThyssenKrupp Access Stair Lifts offer a more practical solution to a wide range of accessibility and mobility challenges in the home. The main goal is to enable you enjoy an active and healthy lifestyle in terms of movements up and down the stairs. Due to the innovative design and versatility of these products, there is no barrier to when and how you can access various levels of the home. By using a ThyssenKrupp Access stair lift, you have total control and independence in terms of mobility and accessibility to your home.
Diverse Options of ThyssenKrupp Access Stair Lifts to Choose From
Considering the diversity in the differences in home designs and mobility needs, ThyssenKrupp Access Stair Lifts come in a wide range of options. In fact, the lifts are custom designed to solve unique home mobility and accessibility challenges. As a result of this, there is always no doubt that you will get just the right match for your home. The following are the main ThyssenKrupp Stair Lifts options that you can choose from;
Flow II
Flow II is the ideal ThyssenKrupp Access Stair lift for both curved, spiral and straight staircases. The lift is accorded an innovative design to offer you greater freedom of navigating a curved stairway and corners with so much ease and, also in style. Unlike other kinds of stair lifts, this one will safely fold flat after reaching the destination to create space for movements across the floor or level. The Flow II can virtually navigate even the most complex staircases in every home in great safety and fast.
Some of the other key features of Flow II ThyssenKrupp Access stair lift that you should also know include;
Automatic power swivel seat
Weight capacity of up to 125 kg
Smooth operation and ease of use
Self-charging
Sleek design with customized finishes to complement the home décor
The Flow II also offers flexible seat height adjustments to suit diverse needs of users. On the other hand, it also has light-touch swivels to give the users an easier time in accessing the landings of the stairway. And, it can fold up to a depth of 340 mm.
Levant Comfort
This is also another model of ThyssenKrupp Access Stair Lifts, mainly designed for use in homes with straight staircases. The Levant Comfort is developed to deliver greater comfort and convenience in navigating a straight stairway to and from different levels of the building. Besides, it is also accorded a compact design and, can easily be folded when not in use to give more room for movements across the floor.
The following are main features of Levant Comfort that make it one of the most sought after stair lifts in the market;
Easy and convenient joystick operation
Lifting capacity of up to 125 kg
Adjustable seat heights
Self-charging
Elegant design and choice of fabrics
The Levant Comfort can fold up to a depth of 368 mm. Besides, it is also quite easier to install, in just a few hours. This stair lift is enhanced with other impressive features to effectively support active lifestyles in the home.
Levant
If you are looking for a more economical alternative for a straight stair lift, the Levant is the best pick to go for. Designed with the same outstanding technologies incorporated in Flow II and Levant Comfort, the Levant is a fairly priced stair lift that can easily complement just every budget. Despite the modest pricing of this lift, it still delivers greater convenience and comfort when it comes to mobility and accessibility to and from different floors or levels of your home.
Other features of Levant that you should also keep in mind when planning to acquire one for your home include;
Durable and compact construction
Joystick operation
Designed to easily fold when not in use
Weight capacity of between 127 and 138 kg
Self-charging
Another unique feature of the Levant ThyssenKrupp Access stair lift is, the product can also be customized for outdoor use, which makes it quite versatile. The sophistication in the design of this stair lift makes it very economical but, quite efficient in improving mobility and accessibility both indoors and outdoors.
High Quality and Fairly Priced ThyssenKrupp Access Stair Lifts Singapore
Even with the diverse options for ThyssenKrupp Access Stair Lifts, finding the right one for your home and budget can sometimes be challenging. However, there is no reason to worry because at Home Lift Singapore, we got you covered. Our company is the authorized dealer for stair lifts, home elevators and platform lifts by ThyssenKrupp Access Solutions in Singapore. And, this is a guarantee that you can always get the best quality products for your mobility needs in the home and, also budget.
By choosing to acquire ThyssenKrupp Access Stair Lifts from our company, you are guaranteed the following;
Selection of the best ThyssenKrupp Access Stair lifts
Stylish and elegant stair lifts to easily complement the décor of every home
Pocket friendly rates for every budget
Friendly Customer Service
Our commitment is to always see to it that every customer is able to get the right ThyssenKrupp Access Stair Lift to suit their individual mobility and accessibility needs across the home. We have a dedicated team of Customer Care assistants to help you in choosing just the perfect match for your home and budget. Simply get in touch with us for high quality and fairly priced ThyssenKrupp Access Stair Lifts in Singapore.