Home lifts, chairlifts and platform lifts are among the key categories of elevators used in most residential and landed property today. Apart from just enhancing the value and appeal of your establishment, lifts are also ideal in ensuring easy and quick movement of individuals up and down the different floors. However, it should be noted that not all lifts can be suitable for your home. Therefore, it is always very important to first take a few minutes to get to know some basics about various kinds of elevators in order to choose the best for your residential establishment.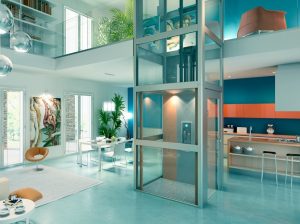 The increasing demand for home lifts among homeowners is undeniable, and this is attributed to their efficient performance in residential establishments. Home lifts are usually designed for between two to six people. Unlike the common belief held by many people, home lifts are not only for the disabled or elderly but all homeowners who do not want to experience the hassles of climbing stairs. With a home lift, you and your family as well as guests can always experience efficient and flexible movement across various floors within a residential property.
Considering the unique appeal and setting of every home, home lift manufacturers are today venturing into creating a wide range of residential elevators to suit the needs of different home owners. Home lifts are designed to high international standards aimed at meeting the needs of all vertical movements across every home. The two main categories of home lifts in the market today include, hydraulic and pneumatic elevators.
Hydraulic system is the most popular and also considered more expensive to install and maintain. They are usually larger and can accommodate a few people, and additional two wheelchairs. Pneumatic lifts are the new entrants into the block and relatively affordable to acquire, install and maintain. Their cabs are mainly designed in glass, which can give your home a more contemporary appeal. Depending on your lifestyle and how you want your residence to look, you can opt to customize the glass.
The best home elevator should be aesthetic, easy to install and operate. Home lifts are made with a similar technology to conventional elevators, operated through steel cabling and pulleys. It would also be great to select a model that is barrier-free for noise reduction during use. Based on the floor area of the landed property, home lifts are also available in various sizes to choose from.
For the safety of users, home lifts are also designed with various kinds of safety features that you should also check when shopping for one. Apart from the common safety facilities, residential elevators also come with self-rescue devices that can be mainly used in times of power failures. The best models of home lifts have robust designs and not heavy in weight. Unlike conventional lifts, modern designs are also energy efficient and can help you save more on energy costs.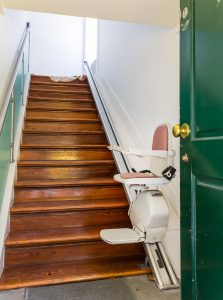 Although some people may not have used them before, chairlifts are also a popular model of elevators for residential and landed property. Similar to home lifts, chairlifts also come in a wide range of designs that you can choose from. Chairlifts are enhanced with a various kinds of innovative features. Therefore, it is impossible to ignore the need for careful selection when thinking of obtaining a chairlift for a new residential property or refurbishment.
There are a few aspects to consider when choosing chairlifts, for example, the mobility of intended users. This is important in determining your specific needs with regards to the barriers to overcome. Medical or elderly chairlifts are specially designed with accessories aimed at assisting seniors get into or vacate chairs with ease. Besides, they can also offer easy movement up or down the hall without the risk of injuries.
Chairlifts are an ideal option for convenient mobility of not only seniors but also individuals with disabilities or other forms of bodily weakness caused by health conditions or accidents. The lifts are great for residential and landed property with curved or straight staircases. Although there are readily designed chairlifts, manufacturers can also develop models that are adapted to specific individual needs. This means individuals can now order for custom chairlifts directly from manufacturers.
One of the basic features of a chairlift is a chair that can be easily mounted and dismounted when in use. Besides, it also offers a maximum adjustable weight and height to support the intended users. Another feature of a chairlift is a joystick to make it much easier for the user to operate it. However, modern models of chairlifts are now designed with more enhanced remote-control features, which enable the users to operate them from either downstairs or upstairs.
For those who have small children at home, chairlifts also have on/off buttons as a safety measure. Besides, the lifts are also designed with retractable and adjustable seat belts to keep the user in position during movements. When shopping for a chairlift, it is also important to keep in mind that the lift runs on a railing, usually made of aluminum. However, it is imperative to always be keen to acquire a chairlift with a strong railing that can offer better support and smooth movements for the user.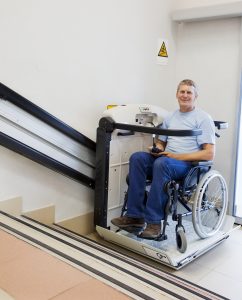 Also known as wheelchair lifts, platform lifts are designed to facilitate the mobility of people, ensuring convenience and comfort. A platform lift is a great option for individuals with difficulties in ascending or descending staircases within the home. Unlike other kinds of residential or landed property lifts, platform lifts are quite versatile in construction and design. And, this means you still need to be cautious when shopping in order to get the most suitable one for your home.
Wheelchair lifts do not require elaborate installation procedures or operator rooms. The lifts basically require side fixings to ensure that the platform is tailored to the existing building without necessarily building a pipeline. The operation of a chairlift is generally smooth and quiet. Besides, the lifts are also designed with features for easy exit of the facilities in the event of failure or breakdown. But not all the models have similar safety and comfort features, hence, try to look through a couple in order to
There are various models of platform lifts that you can always choose from based on your needs and also the available space. However, each is designed to resist use in areas with heavy traffic. There are ready wheelchair designs from where you can select the best one. However, the diverse needs of platform lift users have pushed manufacturers to creating custom models. Wheelchair lifts can also be adapted to various home architectural designs. This enables individuals to acquire lifts that are well-suited to their needs and preferences.
Platform lifts can be installed inside or outside residential apartments and homes. But, the main focus is always for the ease of movement. Depending on the space where you intend to install the lift, there are various kinds of special features for operation, safety and comfort. Technology has ensured that platform lifts can now be designed with a wide range of special features for suitability in diverse residential environments. Apart from your needs, it's important to also look into the number of floors in order to get the right fix.
Another aspect to consider when choosing an ideal platform lift is the style. Considering the ever changing architectural designs of homes and residential property, platform lifts also come in a variety of styles ranging from color to decorations. As a result of this, you can now order for a wheelchair lift that is custom design to the color scheme and theme of your home. This can go a long way in enhancing not only the mobility of users but also the beauty and appeal of a residential or landed property.
Where to Find the Best Lifts for Residential and Landed Property
To some people, home lifts, chairlifts and platform lifts for residential and landed property are only for new establishments and particular forms of disabilities. However, that is not true. With the innovative solutions that are offered at Home Lift Singapore, there are various models of lifts that can be easily adapted to existing residential establishments as well as diverse user needs. We offer a wide range of residential lift models that you can always choose from based on your space and expectations.
Since it can sometimes prove challenging to find an ideal lift for your residential property, we also have experts to offer professional guidance throughout the process for the ultimate solutions. Besides, we will also provide basic training on the use of every model that you choose. Our commitment is to deliver the best solutions that can guarantee easy and improved movement of all individuals including, seniors and people with disabilities within residential and landed property.
In order to get the best home lift, chairlift and platform lift for your home or residential apartments, do not look any further. Simply get in touch with us for highly efficient and affordable solutions tailored to your specific needs.