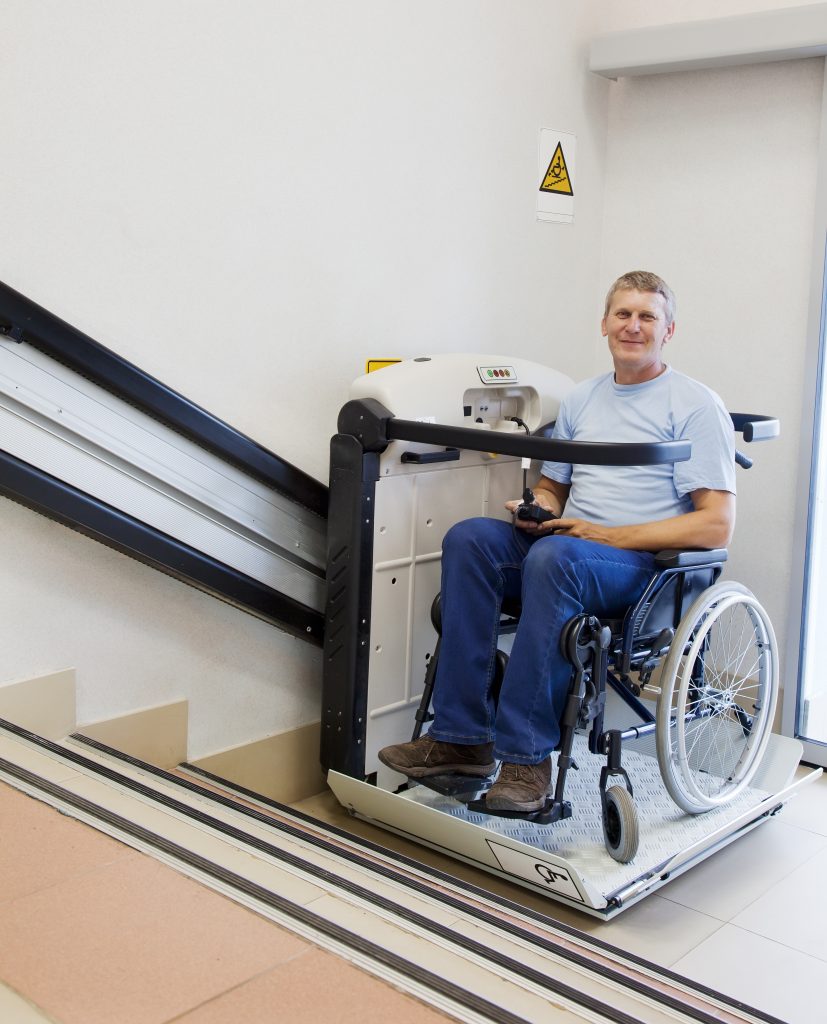 Without a platform lift or other supportive devices, people with challenges in mobility can always find it very hard to navigate the various sections of the home. This lift is designed to make it easier and less stressful for people who cannot move up the staircases to meet those expectations. At Home Lift Singapore, we offer high quality platform lifts that are designed with innovative features for safe, faster and comfortable navigation of different levels or floors in a building.
Also known as wheelchair lift or vertical lift, a platform lift is powerful to safely lift a wheelchair and its user to climb and descend stair cases. Our platform lifts are ideal for residential and also commercial property. Besides, they can also be used in vehicles in order to meet mobility requirements. Platform lifts are mainly considered an alternative to chair lifts that only accommodate passengers and not their wheelchairs or other mobility devices like, scooters.
Types of Platform Lifts
At Home Lift Singapore, we understand that accessibility requirements vary from an individual to another. Hence, we offer different kinds of platform lifts from where you are able to choose the most appropriate one for the ultimate mobility solutions. Our platform lifts can be categorized into three main classes;
Low rise platform lift
A low rise platform lift is installed at the side of one step or several steps to facilitate the vertical movement of the user to various levels while also ensuring that the staircase is clear for others to use. These lifts can accommodate movements for up to 1 meter, and can also serve both indoors and outdoors. Based on the model, there are low rise platform lifts that also offer space for a caregiver or attendant.
Vertical platform lift
These are essentially like the common enclosed lifts that almost everyone has used. However, the lift is not large or faster like the conventional enclosed lifts. Platform lifts are ideal for residential property and, can travel a distance of up to nine meters. The lift supports itself, which requires minimal changes to a building. Hence, they can either be installed indoors or outdoors.
Inclined stair lift
Unlike the low rise platform and vertical platform lifts, an inclined stair lift has a platform attached to a diagonal rail along the wall of the stairs. This type of lift can carry a wheelchair and its occupant from the ground level to the upper floors while also giving room for other users of the stairs. However, they can still be used both in and outside of a building.
Despite the three categories of our platform lifts discussed above, we stock a wide range of models to choose from. These models are designed with different features and accessories to cater for diverse mobility expectations. Our experts can always help you in choosing the best platform lift model that is customized to your personal needs.
Features and Benefits of Platform Lifts
When shopping for a platform lift, there are usually a few basic factors that you should consider in order to determine the right match for your accessibility needs. One of these factors is the features included in the product. Our platform lifts are designed with a myriad features aimed at ensuring convenience, efficiency and user friendliness in navigating stairs within or outside a building.
The platform lifts in our product category are designed for versatility for guaranteed freedom in mobility. This is evident in the fact that the lifts can be used in residential and public establishments. Besides, we also have platform lift models that can accommodate both a wheelchair, its user and an attendant all at once, which is quite convenient. This also makes the work of a caregiver less hectic.
Another aspect of versatility in our platform lifts is the fact that they can be used in buildings as well as vehicles. Large-sized vans that are accessible by wheelchairs usually have lifts to assist occupants in boarding or coming out of the car. However, a wheelchair ramp can also be used. We offer single and dual arm platform lifts for easy accessibility to vans.
Our platform lifts do not require elaborate installation, and machine rooms. Depending on your needs and structure of the house, the machine can be installed on any level. The installation is only basic and can be easily integrated into existing buildings without having to construct a structure. Our lifts are self-contained and can be customized to suit the particular outdoor or indoor space where you intend to use yours.
By using a platform lift, seniors and physically disabled individuals can easily avoid risks of injury, which is quite common when it comes to climbing stairs. Our lifts are equipped with special safety features to ensure that all users are not exposed to any sort of danger or accident. In the event of a malfunction, occupants of the lift can exit without difficulties.
Our platform lifts are also built with sturdy materials to last longer. All our lifts are designed and constructed using high quality parts to serve you better over an extended period of time. Owing to their durability, the lifts can withstand use even in areas with heavy traffic. All the components and accessories of our wheelchair lifts are also environmentally friendly, and cannot cause any harm or inconvenience to your environment.
The recent technological advances have enabled us to acquire a wide range of affordable options when it comes to platform lifts. At Home Lift Singapore, we offer high quality and versatile but, affordable platform lifts for every budget. We believe that not even a limited budget should restrict your movements, and have just the right solutions for you. Depending on your accessibility expectations and budget, we can always find the perfect match.
Place an Order Now for the Best Platform Lift Singapore
There is no need doing rounds over the internet or seeking recommendations for platform lifts from friends when you have an expert. At Home Lift Singapore, we can assist you in obtaining a high quality and affordable platform lift for a residential or commercial establishment. Our products come with a guarantee of the ultimate mobility solutions!